For narrow necked bottles, supplied sterile
This yellow NUK Disposable Teat is widely used in NHS hospitals thanks to its special orthodontic shape.
Equipped with the NUK Anti-Colic Air System which helps to equalise air pressure inside the bottle, reducing the risk of baby swallowing air and thus infant colic.
This teat is commonly used in hospital for feeding breastmilk or unmodified ready-made feeds to newborns. Artificially thickened feeds will usually require one of our larger feed hole teats.
Do not heat this product. Microwaving these teats will damage the latex and create a potential choking hazard. Not for resale.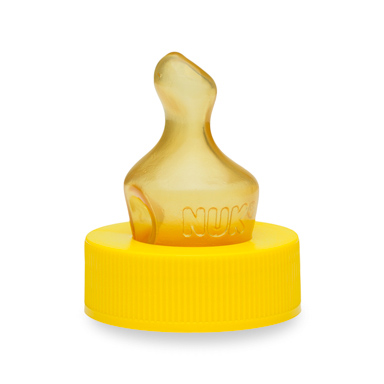 Features
Size 1 (0-6 months)
Soft natural rubber latex
Suitable for thin feeds, breast milk and water
Latex teat with a small feed hole (

yellow

bottle collar)
Sterile, individually packed and ready to use
Single use
BPA, BPS and phthalate free
Fits NUK Classic and popular breast pump bottles
Side vents allow air in to equalise pressure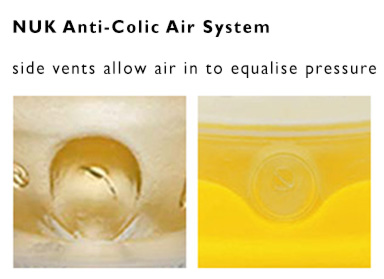 Photographs © Copyright R Cassidy 2022
NUK latex teat - size 1 - small feed hole
Product code: 10.140.008
Availability:
£

39.99

inc. VAT (pack of 100)
---
Orders completed by 2.30pm (Mon-Fri) will normally leave our premises on the same day. Call us first if you intend to collect.
Tracked shipping in the UK.
See our shipping service summary for detailed information on our various shipping services.
---
Not round for a reason
Over 60 years ago two dental health practitioners, Prof. Dr.Balters and Dr. med. dent. Müller, discovered that the female nipple changes its shape during breastfeeding, thus ensuring an optimal coordination of all the muscles of the mouth and jaw.
This precise asymmetric shape has, to this day, been taken as a model for all NUK Teats and Soothers and has resulted in NUK being a key supplier to children's hospitals throughout Europe.
For decades, NUK has studied the shape of teats and soothers in every detail, developed it further and continuously adjusted it based on the latest medical findings. This has resulted in the healthy training of all mouth functions and as natural a sucking sensation as possible.
Hygiene
This product is supplied sterile, sealed in tamper evident packaging, ready to use.
These teats are designed to be used once only and discarded.
Do not microwave.
Bottles
NUK teat locking rings will fit narrow necked (standard necked) bottles. We supply individually wrapped NUK disposable bottles in 45ml, 80ml, 140ml and 230ml sizes. NUK disposable teats may fit other brands of bottle, however, whilst the thread diameter is standard, thread depths can vary and it may not be possible to fully tighten the teats on certain bottles.
NUK disposable teats will not fit wide necked systems or C&G/Aptamil 200ml+ ready-made formula bottles.
NUK disposable teats will fit Hipp Organic Combiotic First Infant Milk 200ml size.
---