Suitable for infants of 6-15 months
The set includes two different training toothbrushes, one for cleaning and the other for brushing.
The cleaning trainer is designed to be chewed by the child and gently cleans and massages the gums and palate.
The brushing trainer helps your child become used to a toothbrush and gently cleans their first teeth.
For safety, a protective ring is included which can be fitted to either brush. This prevents the brush being pushed too far into the mouth. This protective ring can also be used as a handy brush stand.
BPA free.
Hygiene
Tooth care products are not dishwasher or microwave safe, as detergents can cause material damage.
Sterilise using steam or cold water sterilisation or by electric steam steriliser such as NUK Vapo Rapid Steam Steriliser.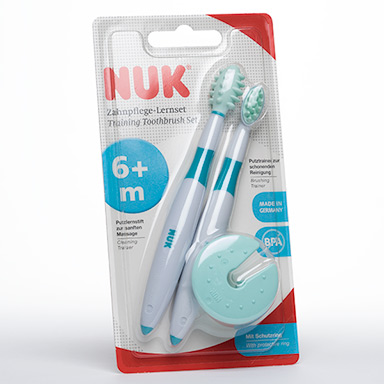 NUK Training Toothbrush Set
Product code: 10.256.205
Availability:
---
Orders completed by 2.30pm (Mon-Fri) will normally leave our premises on the same day. Call us first if you intend to collect.
See our shipping service summary for detailed information on our various shipping services.
---
NUK teats are not round for a reason
Over 60 years ago two dental health practitioners, Prof. Dr.Balters and Dr. med. dent. Müller, discovered that the female nipple changes its shape during breastfeeding, thus ensuring an optimal coordination of all the muscles of the mouth and jaw.
This precise asymmetric shape has, to this day, been taken as a model for all NUK Teats and Soothers and has resulted in NUK being a key supplier to children's hospitals throughout Europe.
For decades, NUK has studied the shape of soothers in every detail, developed it further and continuously adjusted it based on the latest medical findings. This has resulted in the healthy training of all mouth functions and as natural a sucking sensation as possible.
---