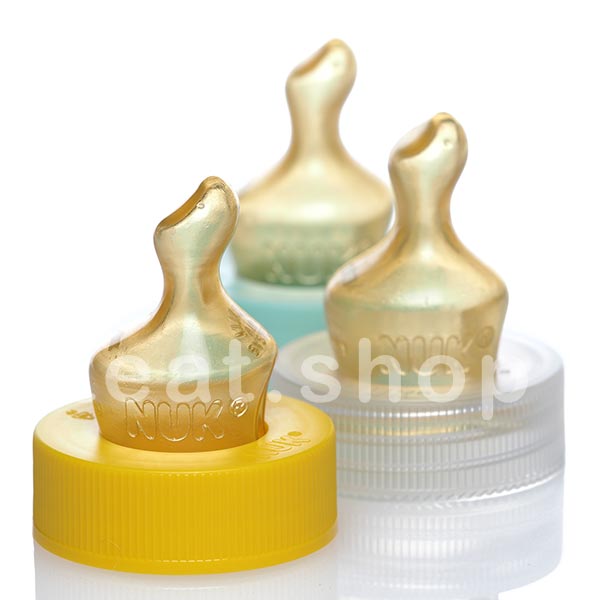 My baby is fed with NUK disposable teats in hospital. Are these the same product?

Yes. The NUK disposable teats found on this website are supplied to us from NUK's official distributor in the UK. They are exactly the same proven products which are supplied to the NHS.
Your website says that the NUK Medicpro teats are single use only. Why can't I re-use them? Are you just trying to make me spend more?

The NUK Medicpro Teats available to order here are ALL designed to be used once only and discarded. The materials employed are thinner than those found in teats which are designed to be sterilised over and over again. The teats are susceptible to deterioration during the sterilisation process. They are especially NOT designed to be heated. Heating the teats in either a microwave or a steam steriliser can cause immediate damage and result in a significant choking hazard for your baby. Do not do it.
Aren't these teats just the same as the NUK wide-neck teats then?

Whilst the orthodontic shape and anti-colic technology is the same as is found in NUK wide-necked bottle teats, the teat material is significantly more pliable and your baby will almost certainly detect a difference.
What sort of bottles do these NUK Teats fit?

NUK disposable teats have a 40mm threaded bottle collar. They will fit NUK Classic Disposable bottles. They will also fit leading breast pump bottles like Ameda, ARDO and Medela; plus narrow necked (sometimes referred to as standard necked) baby feeding bottles.

In addition, they will fit milk storage bottles, for example Axifeed, ARDO Clinistore. They will also fit Hipp Organic Combiotic First Infant Milk 200ml size and most 70ml 'starter' bottles.

They WILL NOT FIT wide-neck bottles such as Avent, Lansinoh Momma, NUK First Choice, Tommee Tippee etc., nor will they fit 200ml ready-made formula bottles by Aptamil / C&G (those have a 50mm thread).
What do the coloured rings mean?

They are an indicator of the hole size or flow rate.

Latex teats:

Yellow means small feed hole, for thin feeds such as breast milk and water
Clear or white means medium feed hole, for milk
Green means large feed hole, for thicker or thickened feeds

TPE (latex-free) teats:

Yellow means small hole, for thin feeds such as breast milk and water
White means medium hole, for milk
What does size 1 mean?

NUK size 1 teats are suitable for most babies from 0-6 months.
NUK size 2 teats have a physically larger teat head for babies of 6 months+

What about recycling?

The NUK standard neck locking rings are made from polypropylene, recycling symbol 5 - recyclable. The golden coloured teats are 100% natural rubber latex which is biodegradable and the semi-opaque teats are made from TPE, which unlike silicone, is also biodegradable.
When should I expect my teats to arrive?

If you place your order before 2.30pm weekdays (excluding public holidays), they will be sent out on the same day. Delivery times vary according to the chosen delivery method. Most Tracked24 consignments should reasonably be expected to arrive in 1-2 days. Most Airmail to ROI will arrive within a week, most items sent there by courier can be expected to arrive within 3-5 days. These times are aims and not guarantees.

Please add a working telephone number when checking out in case we need to speak with you about your delivery (we will never share or sell your personal details).

Note, if you don't receive a confirmation email from us within a couple of minutes of completing your order, and it's not in your junk folder, please call us. If you attempt to pay with Paypal and it does not complete, we get no trace of the transaction at our end.
I have changed my mind. What is your returns policy?

Please notify us by email of your intention to return unopened boxes of teats within 14 days of receipt. We do not accept returns of partly used consignments. Please ensure that we can identify who returned the order.
I'm using NUK disposable teats, but mine aren't on your website. Can you get them?

Quite possibly. Please use the contact form on our homepage or telephone us on 0121 339 5060.
How do I identify which teat I'm currently using?

Below is an illustration of the peel-away label from the packaging. The SKU/part number is written vertically towards the bottom right corner. There's a written description in English below the expiry date.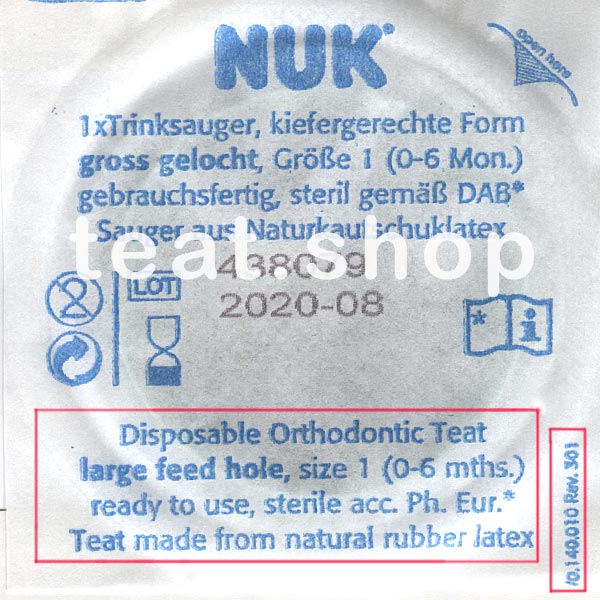 My baby's feed is not coming through. Is this a fault?

Not necessarily. It is important to understand that infant feeds can vary considerably in thickness. Breast milk is, in general, thinner than most types of manufactured milk and usually comes out quickest. Having said that, breast milk can contain naturally occurring fat globules (this is perfectly normal) which can completely block a teat. Man-made feeds could be a little thicker and can therefore come out of the same teat more slowly.

Some specially made feeds are so thick that they will not pass through a normal design of teat at all. Please seek advice from your preferred health professional if this is the case, we may be able to help.
I'm outside of the UK and it won't allow me to purchase. Can you supply me?

We can only supply NUK product to those destinations available in the shopping cart. If you are prevented from buying, please send us your details we will do our best to put you in touch with the correct distributor for your area.
I want to use your pictures. Can you get rid of your logo?

We do not use 'stock' images. Copyright belongs to the photographer (that would be me). Images on this website must not be reproduced without written permission. NUK dealers wishing to licence an image should email us in the first instance.
What does 'not for resale' mean?

What it says. Do not buy off us to resell.

We have an agreement in place where for safety reasons, we cannot supply third-party resellers. Unauthorised sellers will not have direct access to support from NUK Mapa in the event of a problem. NUK single use products must not be sold without the relevant safety information.

We monitor purchasing patterns and proactively monitor online retail channels. Where a purchasing pattern suggests that a customer is trading, we will cease to fulfil their orders. If an order is placed, it will be cancelled and refunded, minus irrecoverable card processing fees associated with the refund.

If it is your intention to buy these products with a view to selling them via online marketplaces - don't. For safety reasons, be advised that we will take all possible steps to work with the site owners to have your advertisements removed and will notify HMRC online and Trading Standards of your activities, passing on your name, address, telephone number and website/marketplace ID, along with copies of your purchase receipts and trading history.

We are active participants in the VERO program. Repeated interventions by online marketplaces to remove or revise your advertisements generally lead to permanent account suspension. We will not take back your unsold items that you become unable to advertise, because, having gathered evidence that you are a reseller, EU/UK consumer trading laws governing our seller-buyer relationship do not apply to you.