Supplied sterile with tamper evident packaging. BPA free. Recyclable.
NUK Classic Disposable Bottles are compatible with the range of NUK Classic Disposable Teats and reusable Cleft Palate Teats available from this official web shop.
This NUK bottle has a clear, easy to read filling scale. Its standard (40mm) screw thread allows direct fitting to leading electric breast pumps.
Each pre-sterilised bottle is individually wrapped, giving you the peace of mind that the bottle has not been interfered with prior to use.
The NUK 140ml Classic Disposable Bottle is suitable for fridge or freezer. There is a coarse writable section on the reverse for easy labelling of stored milk.
Features
Sterile and ready to use
Hygienically wrapped in tamper evident see-through packaging
Easy to read filling scale
Polypropylene (PP) bottle, recyclable
Polyethylene (PE) lid, recyclable
Writable area on reverse
Breast pump compatible
BPA, BPS and phthalate free
Dishwasher safe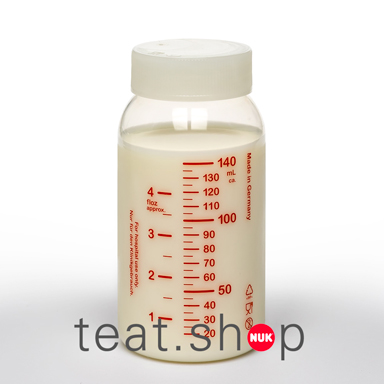 Photograph © Copyright R Cassidy 2020-21
---
Orders completed by 2.30pm (Mon-Fri) will normally leave our premises on the same day. Call us first if you intend to collect.
Tracked shipping in the UK.
See our shipping service summary for detailed information on our various shipping services.
---
ETO Free
Where advertised as sterile, NUK hospital products offered for sale on this website are sterilised without the use of Ethylene Oxide.
Hygiene
This product is supplied sterile according to Pharmacopoea Europaea, sealed in tamper evident packaging, ready to use.
These bottles are intended to be used once only and discarded.
Do not microwave.
Compatibility
NUK Classic Disposable Bottles will accept all NUK Classic Teats and will fit 40mm breast pump flange threads.
Wide-neck NUK First Choice and First Choice+ teats will not fit.
Country of Origin
Germany
---