With size 1 medium feed hole teat - for full-term babies (0-6m)
An original NUK First Choice+ glass baby feeding bottle. Steam steriliser and dishwasher safe.
This NUK 240ml First Choice+ bottle is a wide necked bottle with an easy to read filling scale. The bottle section is made from glass whilst the locking ring, teat and lid are is made entirely from BPA-free materials.
Glass baby bottles are durable, eco-friendly and easy to clean.
The NUK First Choice+ size 1 medium feed hole teat (supplied) features the special, orthodontic, asymmetrical NUK shape, an extra wide lip support and new extra soft tip to fit baby's mouth perfectly, simulating breastfeeding as closely as possible. The medium feed hole is intended for feeding milk.
The NUK Teat also features the NUK Anti-Colic Air System, which allows air to flow into the bottle through the improved vent, stopping baby swallowing air and helping to prevent colic.
Individually boxed and very carefully packaged.
Advantages of NUK First Choice+ Teats
Suitable for combined feeding
Range of feed hole sizes for feeding different types of feed:
NUK orthodontic shape
Super soft with new Soft Zone
Approved by the Oral Health Foundation
BPA, BPS, Phthalate, DEHP free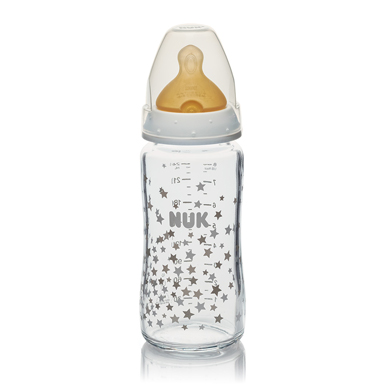 IMPORTANT: NUK disposable teats DO NOT FIT this bottle
NUK First Choice+ 240ml glass bottle
Product code: 10.745.114
Discontinued
---
Orders completed by 2.30pm (Mon-Fri) will normally leave our premises on the same day. Call us first if you intend to collect.
See our shipping service summary for detailed information on our various shipping services.
---
Not round for a reason
Over 60 years ago two dental health practitioners, Prof. Dr.Balters and Dr. med. dent. Müller, discovered that the female nipple changes its shape during breastfeeding, thus ensuring an optimal coordination of all the muscles of the mouth and jaw.
This precise asymmetric shape has, to this day, been taken as a model for all NUK Teats and Soothers and has resulted in NUK being a key supplier to children's hospitals throughout Europe.
For decades, NUK has studied the shape of teats in every detail, developed it further and continuously adjusted it based on the latest medical findings. This has resulted in the healthy training of all mouth functions and as natural a sucking sensation as possible.
Hygiene
For safety and hygiene purposes we recommend that you replace teats after 1-2 months of use or whenever they start to show signs of wear. Prior to sterilisation we recommend using the NUK Baby Bottle Cleanser, it's natural formula removes dried on milk protein, pulp and juice residues more effectively than hot soapy water alone.
To sterilise bottles and teats we recommend using steam, cold water sterilisation or a NUK Steam or NUK Microwave Steriliser.
---