For pre-term babies weighing less than 1750g, supplied sterile. Item will only be made available to hospitals and clinicians. Please contact us in order to purchase this soother.
NOT FOR DISTRIBUTION TO THE GENERAL PUBLIC UNDER ANY CIRCUMSTANCES
WE WILL NO LONGER ANSWER EMAIL CORRESPONDENCE RE THIS PRODUCT EXCEPTING THOSE FROM @NHS.NET or @DOCTORS.ORG
NUK's smallest soother for home use is the Genius size 0 for low birthweght and newborn infants 0-2m. They are available to purchase from here.
Made from natural rubber latex. Sterile, individually packed and ready-to-use. Recommended for short-term application only. Not for resale.
Advantages of NUK Premature Soothers
This product is for use under intensive medical supervision only and is designed exclusively for babies weighing 1750g or less


Special products, clinically tested to stimulate and train the sucking reflex
Oral contentment
Increased sense of well-being
Longer periods of rest and sleep
Promotes the development of the gastro-intestinal function and the growth process overall
Suitable for application during probe
Highly elastic and tensile strong
BPA, BPS and phthalate free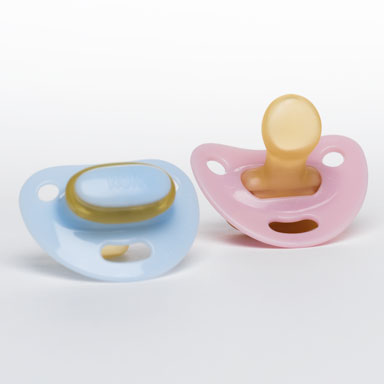 Photograph © Copyright R Cassidy 2019
NUK Special Disposable Soother <1750g (40)
Product code: 10.107.029
Availability:
---
Orders completed by 2.30pm (Mon-Fri) will normally leave our premises on the same day. Call us first if you intend to collect.
Tracked shipping in the UK.
See our shipping service summary for detailed information on our various shipping services.
---
Not round for a reason
Over 60 years ago two dental health practitioners, Prof. Dr.Balters and Dr. med. dent. Müller, discovered that the female nipple changes its shape during breastfeeding, thus ensuring an optimal coordination of all the muscles of the mouth and jaw.
This precise asymmetric shape has, to this day, been taken as a model for all NUK Teats and Soothers and has resulted in NUK being a key supplier to children's hospitals throughout Europe.
For decades, NUK has studied the shape of soothers in every detail, developed it further and continuously adjusted it based on the latest medical findings. This has resulted in the healthy training of all mouth functions and as natural a sucking sensation as possible.
Hygiene
This product is supplied sterile, sealed in tamper evident packaging, ready to use.
These soothers are designed to be used once only and discarded.
Do not microwave.
---